Earn THE MAX, sign up for Royal Rewards today!
Want even more with your cannabis purchase? Make sure you're enrolled in our elevated loyalty program: ROYAL REWARDS. With this FREE program, you'll not only earn 1 point for every $10 spent, but you also receive 3x points on select products, exclusive rewards, early access to promotions, and more.
Member Benefits
3X POINTS on all 420 Kingdom brand products, always. ALSO, occasional points-multiplier promotions with other brands – members will be notified in the 420 Kingdom app.
FREE loyalty points on your birthday each year PLUS a bonus discount to be used on your special day.
EXCLUSIVE discounts & offers – members will be notified in the 420 Kingdom app.
EARLY ACCESS to new products & promotions.
How To Enroll
STEP 1: Opt-in to receive text message communications from 420 Kingdom.
STEP 2: Opt-in to receive email communications from 420 Kingdom.
STEP 3: Download our app for iOS and Android devices, and opt-in to receive push notifications from 420 Kingdom.
Important: Ensure your phone number and email address between our website and the loyalty program are the same, otherwise loyalty points will not allocate correctly, discounts and rewards will not be available, and Royal Rewards status may be impacted.
Confirm Status
We recommend members confirm their details by re-entering them here to ensure they are opted-in:
Members can confirm their enrollment in our app – just open the home screen to view the earned badges. If enrolled, members will have the Royal Rewards badge: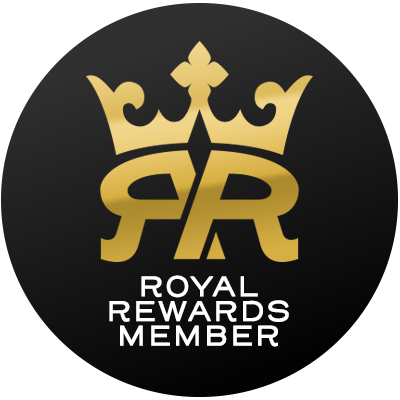 Members who aren't opted-in to receive text communications, email communications, and with push notifications enabled will still earn 1 loyalty point for every $10 spent, but will miss out on the added perks of the Royal Rewards program. Confirm your enrollment details to get the MAX!
Royal Rewards Program is updated frequently, be sure to check back to learn about new benefits available to Royal Rewards members.