Cannabis Loyalty & Referral Rewards for the People 
With 420 Kingdom, customers & patients get more value with their purchase of premium cannabis products. We offer several ways to save, earn loyalty points, and share the love with friends (while you earn even more)!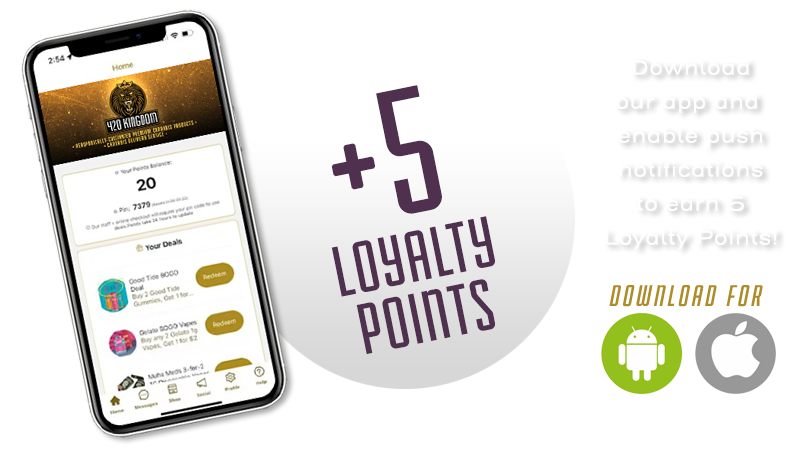 All members are automatically enrolled in 420 Kingdom's loyalty program, earning 1 point for every $10 spent.
Maximize your earnings with Royal Rewards. Members earn 3x points on select products & more… plus it's FREE!

Love 420 Kingdom? Refer friends to earn loyalty points on all their purchases for LIFE… and cash out your earnings!
The King's Loyalty Program
We want our customers and patients to not only have the best experience purchasing safe, authentic, premium cannabis products from the Kingdom, we also want our customers to get the best value in the industry. That's why EVERY purchase automatically earns loyalty points automatically. No enrollment in our loyalty program is required* to start earning. Here's how it works:

Enroll or Confirm Details
Though enrolling in our Loyalty Program is not necessary, it's recommended to confirm your account details. It's fast, free, and easy! Members must be 21 or older to participate.
Note: In order to earn and be able to redeem rewards points on our website, your email and phone number must be the same between our website and your loyalty wallet. 

Shop & Earn
Start shopping on our website or through Weedmaps to earn loyalty points. Members earn 1 point for every $10 spent. Want more? Join our Royal Rewards Program for FREE to earn 3x points on 420 Kingdom products and other brands during promotional periods.
Note: Points can take up to 24 hours to appear in your Loyalty Wallet after purchase. Check points balance anytime in our app or online wallet.

Redeem Your Rewards
Use your loyalty rewards online on any of our brands through our website. Points can be redeemed at checkout by selecting the "Redeem Rewards" button and choosing the available rewards to apply to your order. View and track your loyalty points balance in your account on our website or the 420 Kingdom app for iOS and Android devices.
Loyalty Point Redemption Value
10 Points
($100 Spent)
=
$5 Off
Reward Coupon
15 Points
($150 Spent)
=
$7.50 Off
Reward Coupon
20 Points
($200 Spent)
=
$10 Off
Reward Coupon
25 Points
($250 Spent)
=
$12.50 Off
Reward Coupon
30 Points
($300 Spent)
=
$15 Off
Reward Coupon
40 Points
($400 Spent)
=
$20 Off
Reward Coupon
Frequently Asked Questions
How do I earn rewards?
Earn rewards by continuing to shop with your account online on 420 Kingdoms website
How much do I earn?
You'll earn 1 point for every $10 spent.*
When can I spend my rewards?
Loyalty points can be redeemed for cash discounts at checkout on the 420 Kingdom website or by placing a phone order during normal business hours. If available, rewards can be applied at checkout by selecting the "Redeem Rewards" button and applying to the order. Members can also see their loyalty points balance at checkout, or in the 420 Kingdom app. In the app, members can also see available rewards, and their progress in earning additional rewards.
Can I earn rewards and receive discounts?
Yes. However, members will only receive reward points on the subtotal, less any discounts. Rewards and discounts can be applied to the same order unless otherwise indicated. Please see the terms of discount promotions for more information.
*Subtotal after discounts are applied. ( Please note: The Loyalty Program began and points began accrue from 12/10/20 )